Style PN is a basic construction Flexpro™ gasket consisting of a serrated metallic core, incorporating soft gasket sealing facings. Style PN Flexpro™ are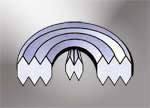 selected for use in confined locations, including male and female, tongue and groove and recessed flange arrangements.
Standard core thickness is 4mm, while soft gasket facings are usually 0.5mm thick, although these values can be adjusted to meet specific needs.
Suitable for Class 150 to 2500 service.
Was this answer helpful ?
Yes
/
No