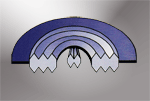 The Style ZA is a slight variation on the Style ZG. The integral outer locating ring is replaced by a loose fitting, independent, thinner locating ring. The loose fitting ring allows for expansion and contraction without excessive stress being induced in the solid metal core. Depending on centering ring material and thickness, the ZA may be more economical than the ZG.
The Style ZA is recommended for use on standard flat face and raised face flange assemblies.
Standard core materials are 4mm thick, while the soft gasket facings are 0.5mm thick, although these values can be adjusted to suit specific needs. Thickness of outer location ring is 1.5mm as standard.
Suitable for class 150 to 2500 service.
Was this answer helpful ?
Yes
/
No