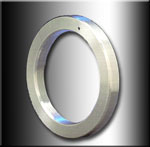 Style BX gaskets incorporate a pressure balance hole to ensure equalization of pressure which may be trapped in the grooves. Style BX pressure energized Ring Type Joints, manufactured in accordance with API 6A, are designed for use on pressurized systems up to 20000 psi.
Although similar in style to the octagonal gaskets, the BX Series can only be used with 6BX flanges and 16BX hubs. BX-Gaskets have been designed for higher-pressure ratings starting at 5,000 lbs. and ending with 20,000 lbs.
Was this answer helpful ?
Yes
/
No