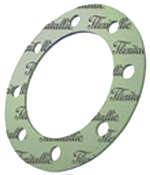 DOWNLOAD DATA SHEET
Medium quality, cost effective, compressed, non-asbestos sheet material. Based on a blend of aramid and inorganic fiber with a high quality nitrate binder system. Suitable for use with oils, solvents, gases, hot and cold water, low pressure steam and many dilute acids and alkalis.
Max Temperature: 662°F (350°C)
Max Pressure: 1450 psig (100 bar)ASME m: 3.2
ASME y: 2900 psi (20 MPa)       pH Range: 3–11
Was this answer helpful ?
Yes
/
No