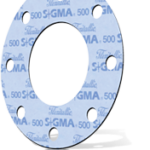 MATERIAL: Biaxially orientated PTFE containing hollow glass microspheres
COLOR: Blue
Sheet material with higher compression specifically formulated for use on glass lined, plastic or ceramic flanges. Also suitable for use on flanges which are non-parallel, damaged or distorted. Compatible with acids and alkalis at all but the highest concentrations. Enhanced compressibility is achieved by the incorporation of hollow glass mirospheres as the inorganic filler.
Enhanced compressibility for low bolt loads
Improved flexibility over conventional calendered and graphite sheets
Moderate concentrations of acids & caustics, chlorine and hydrogen peroxide
Can be used for all concentrations of sulfuric acid
WRAS approved for hot and cold potable water services
Was this answer helpful ?
Yes
/
No