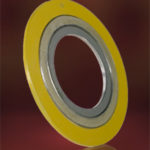 Style CGI spiral wound gaskets are a Style CG gasket fitted with an internal ring which gives an additional compression limiting stop and provides a heat and corrosion barrier protecting gasket windings and preventing flange erosion.
It is customary to select inner ring material to be the same as the metal winding.
*Note on use of inner rings – ASME B16.20 which covers spiral wound gaskets requires the use of solid metal inner rings in: Pressure Class 900, nominal pipe sizes 24″ and larger, Pressure Class 1500, nominal pipe sizes 12″ and larger, Pressure Class 2500, nominal pipe sizes 4″ and larger, All PTFE filled gaskets.
Was this answer helpful ?
Yes
/
No