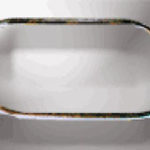 Style T spiral wound gaskets are used for boiler handhole and tube cap assemblies. They are available in round, oval, obround, square, pear and diamond shapes. Please note Style T gaskets rely on internal pressure in the boiler to properly seat the gasket. This means, when a hydrostatic test is performed on the gasket, the pressure exerted against the plate will further compress the gasket-and it is necessary to tighten each nut to compensate for the additional compression of the gasket under load.
The design features of the basic spiral wound construction alleviate the need for sealing compound. Particularly suitable where old and pitted faces have rendered other gaskets ineffective.
Supplied in thicknesses of 0.125″ (3.2mm) or 0.175″ (4.5mm). The standard thickness of 0.175″ (4.5mm) is recommended for use in assemblies where the seat is relatively broad and bolting load is low.
Standard materials are Type 304 Stainless Steel and Flexicarb®windings. Special materials to suit specific operating conditions are available.
Was this answer helpful ?
Yes
/
No