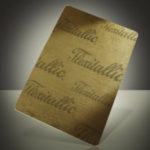 DOWNLOAD DATA SHEET
Thermiculite 815 is the original grade developed in the entire range of Thermiculite series.

Thermiculite 815 chemical compatibility exceeds that of graphite and will successfully seal up to 1800˚F (982˚C).
Thermiculite 815 is a high temperature sheet reinforced with 0.004″ 316 stainless steel tanged core.
Was this answer helpful ?
Yes
/
No