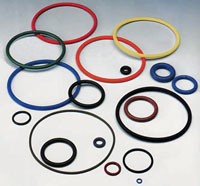 Nitrile (BUNA-N) is a copolymer of butadiene and acrylonitrile. These two compounds have a relatively high acrylo content, making them exceptionally resistant to petroleum base oils and hydrocarbon fuels over a temperature range from -40°F to +250°F.
Silicone offers a broad temperature range, from -80°F to +400°F, and excellent dry heat resistance. Silicone compounds are inert and are frequently used for food and medical applications. They are not used in dynamic seals because of relatively poor tensile, tear and abrasion resistance.
EPDM has a temperature use range of -65°F to +300°F for sealing most media. Steam service, however, is rated at up to +400°F. EPDM Compounds are frequently used with foods, water and steam applications and offer the best resistance to ozone and weathering. They are not used with petroleum oils or fuels because significant swelling would result.
VITON is DuPont's trade name for Fluorocarbon Elastomers. These compounds offer good resistance to a wide variety of chemicals and excellent compression set resistance over a temperature range of -20°F to +400°F. Intermittent exposure up to +600°F can be tolerated for brief periods.